Discover more from The Supersonic
Property of Blackbird Labs, Inc. Building technology products for the hospitality industry.
Over 6,000 subscribers
Take Me to Your Spot: Adam Faze @ Balthazar
The L.A. transplant and TikTok whisperer discusses seafood towers, the state of reservations, and producing TV shows for scroll-happy Zoomers
Welcome to Take Me to Your Spot, a series with a simple premise: food, a fascinating person, and the restaurant connecting them. In each installment, an interesting New Yorker (as well as folks from further afield) takes us to their favorite restaurant—a place where they rank as a true regular—and shows us the ropes.
If you ask Adam Faze, Balthazar is at the height of its powers. Faze, who picked the SoHo kingpin bistro when we asked him to take us to "his spot," grew up in Los Angeles. For him, filmmaker and cool hunter, a lot of his references are from Hollywood. In a loosey-goosey sense, it occurs to me that maybe we are here because Balthazar shares DNA with one of his hometown favorites.
"I love the classics. So, for me it was Sunset Tower. And this is the same exact thing." I pointed out that Sunset Tower's standing has waxed and waned over the years. "It definitely is still "Tower Bar" though," he says. "Obviously the industry has changed, Dimitri isn't there anymore. But it still has a special place in my heart."
Let us quickly dispense with some particulars. Faze produces TV shows, only not for TV, but for TikTok. Still, that's just semantics. To Faze, TikTok is television — the new frontier ripe for his big swings. As for now, he's widely known for the two unscripted series he's produced for the platform—"Keep the Meter Running" and "Clockwork Dynasty" (we'll get to both below)—but the 26-year-old's ambition doesn't stop there.
"I want to go make premium scripted shows on TikTok and just see what happens with it."
"It's really amazing when something actually works and it continues to work through different generations. The fact that I love coming here and also someone in their 60s loves coming here is probably pretty hard to replicate. That's the only thing I complain about with newer restaurants is it feels like hyper-focused on a younger crowd."
As for what Faze wanted for dinner, he ordered: A margarita and a Le Grand seafood tower for us to share. Yes to the bread. And, as a meal finisher, a cone of frites, ordered just as the tower was being cleared. Pro move. We sat at a table by the window, which at Balthazar isn't considered particularly prime. But tables in this section are way roomier and more comfortable than the 2-tops in traditionally better real estate. A reservation? Yes, for this one. But not always. "Half and half," he says. Also of note, although when he orders he'll refer to the seafood tower as a "seafood tower," when we get into a conversation about Le Grand vs. Le Balthazar they are called "SFTs." As in, "I think we should do an SFT for the table."
Still, Balthazar? I'm not quite sold yet, because frankly I expected him to pick a place a little more east and south, where scenesters and alpha Substackers are in their natural element.
"It's really amazing when something actually works and it continues to work through different generations. The fact that I love coming here and also someone in their 60s loves coming here is probably pretty hard to replicate. That's the only thing I complain about with newer restaurants is it feels like hyper-focused on a younger crowd. I think it's the thing you notice most when you travel in Europe. You realize even at the club it's like, Wait a second, there's an 18-year-old here and there's also a 75-year-old here and it's not weird. It's just like that's life in every other country. Here in America, we're hyper-focused on young people. I think that's a mistake."
I guess the other reason why Balthazar is in fact not a surprising choice, is because it is the most obvious good choice. Faze is a guy who has publicly said how much he loves a sticky movie theatre floor, which is the right take. He's also just signed an office lease for his new production company, Fazeworld, and it's on 57th Street, not exactly a bastion of creative energy, but, actually, where you'd put a production company if you were serious about your business. (Be closer to your buyers, the networks.) When we meet, Faze is wearing a Yankee hat with a second logo on the side and because he's him I assume it's some kind of special edition collab. In fact, it's just a Yankee cap from Cap Day three years ago. There is a little bit of an Occam's Razor vibe to Faze's brain.
We run through the other places that are in Faze's heavy dining rotation: Fanelli's, Casino, Kiki's, Taco Bell (new to the rotation), Emmett's on Grove, L'Artusi. At Fanelli's he raves about the wings. Kiki's is a fallback, a place to go when nobody can think of anything more exciting. Faze lives in the West Village and, yet, he doesn't include Via Carota on his list of spots. "I think it's probably because I haven't put in the time, so I can never get a table. I'm just like, it is what it is."
This distinct lack of thirst in Faze's approach is refreshing. He recently posted a video linking assigned seating—ie. reservations—in movie theaters to the death of cinema. And before he figured out how to make a living making shows he sold bottle service tables for the h.wood group, a big time club outfit in L.A. So, I'm eager to ask him about all of this.
"Oppenheimer is an interesting example. Four weeks from now, on a Tuesday at 10:00 a.m., you still can't get IMAX tickets. And, it's like, why are we rewarding these people? You probably are now selling these tickets on the secondhand market. It's like, just fucking buy a ticket and go to the goddamn theater.
"There was something fun about trying to get to a movie 30 minutes in advance, waiting in line with everyone, giddy about seeing the new movie. That's the community. That's the democracy of it. You would just go to the mall or you'd go to the Promenade. You were going and no matter what, you were going to see a movie. You're hoping that you're going to go see the movie you want to go see. But if you didn't, you were already there and you were going to see another movie. The secondhand effect on how it supported the rest of the film economy is massive."
To me, he's making the argument that restaurants shouldn't take reservations, much less premium ones. I ask Faze to square this up in terms of restaurants. To the point: Is assigned seating killing restaurants?
"It's a special anniversary. It's your birthday. You have to be able to make reservations." Faze pulls back. His nails—painted blue by a nail artist set to be the star of his next project, a nail salon talk show—catching Balthazar's near perfect light. The manicure stands out from his otherwise conventional getup. He considers his words. "But you also need to be able to cater to people that also can just show up."
And is he ok with paid reservations?
"I'm okay with it. I'm not sure how sustainable it is, but as a business owner if someone is offering me $500 for a reservation, why wouldn't I take it? My first job ever, from when I was 18 to 20, was I was a club promoter selling tables. So, I completely understand that model. At the end of the day, this club is paying to fill this room on the hope that some very wealthy individual is coming in there and saying, 'Hey, there's a lot of hot people here. I want to show off my wealth and I want to pay $100K.' And that $100K pays for everything. It pays for the club, it pays for the rent, pays for us to be there, the alcohol, it pays for all of that. That is the business."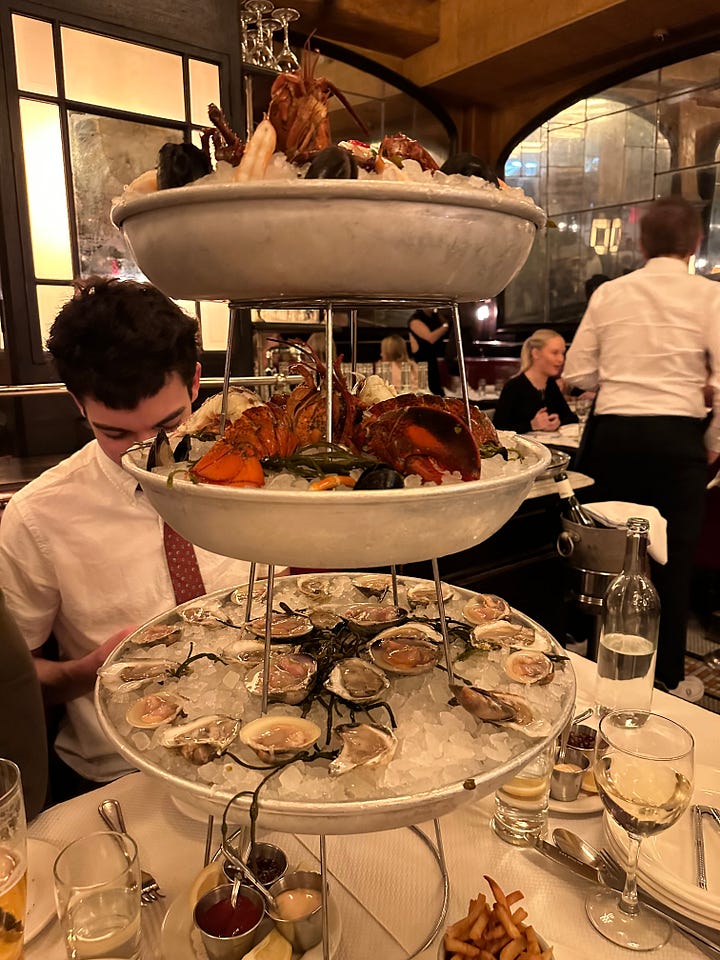 Faze is an artist, but not one that is interested in starving. His ideas are quirky but always commercial. As a promoter, he threw a Sunday party that was black tie, which ended when celebs started showing up and disrespecting the dress code. Recently, he was dumped just before Valentine's Day, so not wanting to be alone he threw himself a Valentine's Day party and staged a surprise, actual, wedding. Guests went nuts when they realized what was happening. His breakout show, "Keep the Meter Running"—in which cab drivers take the host to their favorite off-the-beaten-path restaurant—was gimmicky but somehow also incredibly compelling. In "Clockwork Dynasty," he found the two most entertaining watch dealers in all of New Jersey and made a show about them. He's trying to sign the woman who he says is "Gen Z's Martha Stewart." He wants to take on Zagat, although when he mentions this I point out that Zagat is all but dead.
What he's getting at is, "It's all bullshit. I was in Europe a little bit this summer and my biggest frustration was even me who has family all over the place, friends all over the place, I had no idea where to go. I can type in a city on TikTok, but it's like, I don't want to be offered influencer places that are like, 'Look, you pour this hot chocolate on a thing and it explodes.' I'm like, 'Oh, my God.'"
Indeed. Our SFT long gone and the supply of chaser fries exhausted, we take one final look at his spot. It's buzzy and comfortable with itself and has a fun sense of how things should be — just like my guy Adam Faze.
Ben Leventhal
Founder + CEO
Blackbird Labs, Inc.